The small business run by Steve Carell
While Steve Carell is a famous celebrity actor who is best known for his character of Michael Scott in 'The Office', he is also a small business owner. Steve opened his own small shop 'The Marshfield Hills General Store' in 2009 and is like a quaint little hobby for him.
Steve took the chance to buy the historic general store when it was up for sale. The sister of his wife Nancy told the couple about the store being up for sale and Steve leapt at the opportunity, finalising the sale in 2009.
Now, the store is most famous for its famous owner. The store is as much a tourist attraction as it is a shop, and many people visit it simply because it is owned by Steve Carrel.
The shop is a perfect destination for those who are seeking to buy some old-fashion candy or pick up a housewarming present for someone they care about. The store even has its own café serving tea and coffee to those who are interested in it.
The store is a key part in the heart of the local community and is really a nice distraction form the mega-stores that are so common in the Untied States. For small business owners, the shop shows that there is a lot to be enjoyed about keeping this small and leaning into the marketing benefits of being an actually small business.
In this sense, size matters where it comes to sincerity in business. People like the idea of shopping at a small business like this that feel like it has real history behind it and is not an overly-optimised construction designed to maximise profits.
The rustic and old-fashion design is nostalgic for many people and is a key part of the stores' popularity.
Virgin Australia on the verge of being sold – what does this mean for you?
The coronavirus pandemic precipitated The Great Shutdown, which has had detrimental impacts on the global economy. Large corporations have struggled to survive, and the Virgin Group is one of the most publicised. Virgin Australia went into voluntary administration in April 2020 and have been searching for a financial lifeline in the process. It now appears that this lifeline may have emerged in the form of two private American companies – Bain Capital and Cyrus Capital.
What does this mean for you?
If Virgin is bailed out by both/either companies, the airline will likely remain operational in Australia. However, there are a few conditions, and it certainly won't be the same airline as before. The average consumer can expect Virgin Australia to likely strip the airline back and re-brand the entity as a mid-market offering. In the past, Virgin had competed directly with Qantas and have struggled significantly, having incurred a horrendous amount of debt before the pandemic had even begun (around $7 billion).
In other words, if Virgin is given a second chance, you can expect it to become a more low-budget airline. Cyrus Capital has links to the Virgin Group, while Bain Capital has a reported $149 billion AUD in assets, meaning they could put down several hundred million for a significant stake in the company. While this is hopeful news for Virgin Group workers, tourists and travellers shouldn't be getting ahead of themselves. With the restructuring of the company, there's a good chance that flight paths and coverage will be scaled back massively, which could hurt a lot of regional areas.
Ways to be inspired in small business by Tony Hawk
Running any small business is going to be difficult, especially at the start. There is so much set against you, and there are so many potential mistakes you can make that can undermine everything you are trying to do.
Tony Hawk is known as a famous skateboarder, but he is also someone you can learn some interesting business lessons from. Tony Hawk has had to take control of his own brand and ensure that it remained something that he was proud of, and that was going in the direction he wanted it to.
Knowing these tips is going to be important for ensuring that your small business is successful. While not every lesson will be specifically applicable to the business you are trying to establish, they are generally going to be sound pieces of advice to remember.
Here are some of the lessons from Tony Hawk that you could apply in the running of your small business.
1.   Take direct control in ensuring your brand is what you want it to be
Tony Hawk has famously had to wrestle back control when it comes to how his intellectual property is handled. He has had his brand name abused in the past and had to learn the hard way why it is important to maintain control.
2.   Do charity work and give back
Tony Hawk has famously done a lot of charity work through his business enterprises, and this is a hugely beneficial thing for his brand. This is a lesson that more businesses should take to heart.
3.   He uses social media in the right way
With so many companies having 3rd party management of their small businesses, Tony Hawk has done things differently. He knows the power of speaking with his own voice to his target audience.
Business lessons to get from Jeff Bezos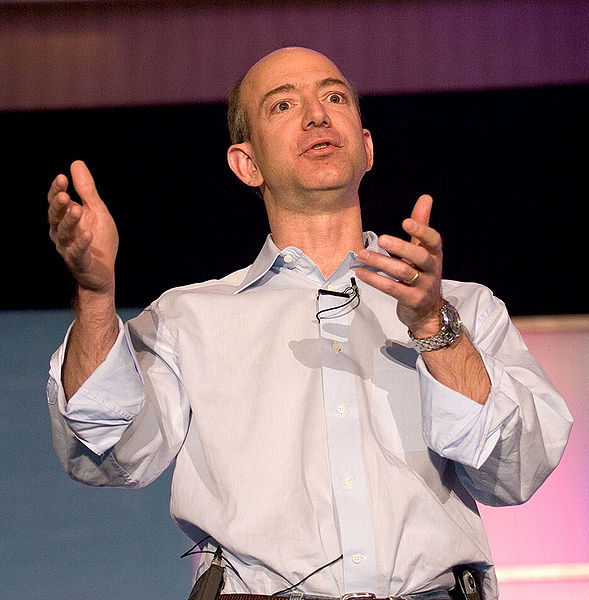 Jeff Bezos is the richest businessperson in the world and for a good reason. As the founder of Amazon, they have had massive success due to the simple tactics they employed. Jeff Bezos is someone that should be admired by anyone seeking to start any kind of business.
Learning important business lessons is essential for getting a good start no matter what industry you happen to be in. If you are trying to get into an industry, you want to come equipped with the best knowledge possible so that you can avoid the mistakes that others have made when they take their first steps.
The following will list some of the best lessons to get from Amazon founder Jeff Bezos about small business.
You can start from anywhere
Many people think you need to do a lot of preparation to start a business, but Jeff Bezos started Amazon out of his parent's garage. He knew that as long as he could get the business running from bare scraps that he could start optimising it. By starting with this humble setup, he was able to keep costs low and expand as needed, keeping overheads to a minimum.
Focusing on the core values of the consumer base
Amazon is successful because it focuses on the core things that the consumers want from a business like it. It focuses on fast delivery and low prices, and always strives to meet those ends. By consistently doing this is has not allowed competitors to overtake it. This is one of the best tactics Jeff Bezos has employed for making Amazon great.
Always improve
Jeff Bezos has never been complacent with the running of Amazon and always seems switched on. This makes the company superior to competitors in a number of ways.